Recreation in Top Schools inTirupati
Recreation is important and top school in Tirupati give top most importance to it. Basically the word 'recreation' stands for an activity that diverts, amuses or stimulates the human beings. Here it is the sports and extracurricular activities that refresh, recreate and renew the health and spirits of students by enjoyment and relaxation.
Top Schools in Tirupati focus on recreation
Recreation is one of the top primary needs of the school students in today's age. Recreation facilitates students to grow and refresh. Mental wellness is crucial to complete physical health. Taking part in recreational activities aids in managing stress. Taking extra care to nurture students provides a sense of balance and self-esteem in them, which can indirectly help in studies and their overall development also.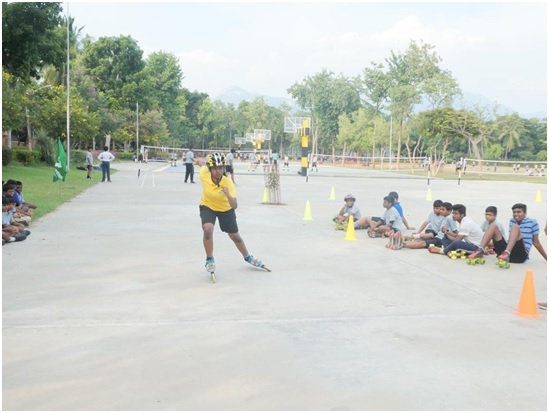 Recreation improves skills in Top Schools in Tirupati
Recreation is always effective in many ways for all ages and abilities. Team activities in recreation programs improve interpersonal skills, team playing skills, independence, and positive self-esteem which can bring about a lot of benefits in the psychological aspect. Like this, a wide range of activities which can promote physical, psychological, social, and emotional function and improve the quality of personal life. In particular, there is a recreational activity accompanying joy called physical activity-based recreation.
Recreation improves skills in Top Schools in Tirupati
The effect of recreation is extensive. It enhances self-expression, self-fulfillment ability, human relationship skills, techniques and methods of using leisure, physical strength, creative expression, and aesthetic sense. These attributes that recreation holds can have a welcoming effect on students in their everyday life and education. Therefore, recreation has become vital part of the school education in Tirupati Schools.
Sree Vidyanikethan School is top in recreation in Tirupati
Top among Schools in Tirupati, Sree Vidyanikethan International school was established in 1993 by Padma Shree Awardee, Dr. Manchu Mohan Babu, with a personal deserving students and he became a source of inspiration and guiding spirit to the students' fraternity. SVIS as a center for knowledge and academic excellence for people of all nationalities, origin, religious beliefs and social background. Recreation is at the top of the curriculum at Sree Vidyanikethan School in Tirupati.